Full Color Entertainment hari ini mengumumkan secara resmi akan membawa Band Rock asal Irlandia; The Script dalam rangka tur Asia dengan tajuk konser "Freedom Child Tour Live in Jakarta 2018" Selasa, 10 April 2018 di The Kasablanka Hall, Mall Kota Kasablanka, Jakarta. Tiket konser mulai bisa di beli secara online di Book My Show, Rajakarcis.com dan offline diseluruh gerai Indomaret dan Full Color Galery di Mall Taman Anggrek lantai P2 no.19 dengan hotline : +62 815 1187 3767 atau 021-563 9543 mulai hari Jumat tanggal 15 Desember 2017 mulai jam 11.00 wib.
Penjualan tiket presale mulai di jual dari periode tanggal 15 – 31 Desember 2017 dengan harga sebagai berikut :
Golden Priority Class : Rp. 990.000.-
Festival : Rp. 650.000.-
Diamond VVIP (Include Snack & Drink) : Rp. 2.250.000.-
Harga Tiket normal mulai di jual tanggal 1 Januari 2018 dengan harga sebagai berikut :
Golden Priority Class : Rp. 1.250.000.-
Festival : Rp. 850.000.-
Diamond VVIP (Include Snack & Drink) : Rp. 2.500.000.-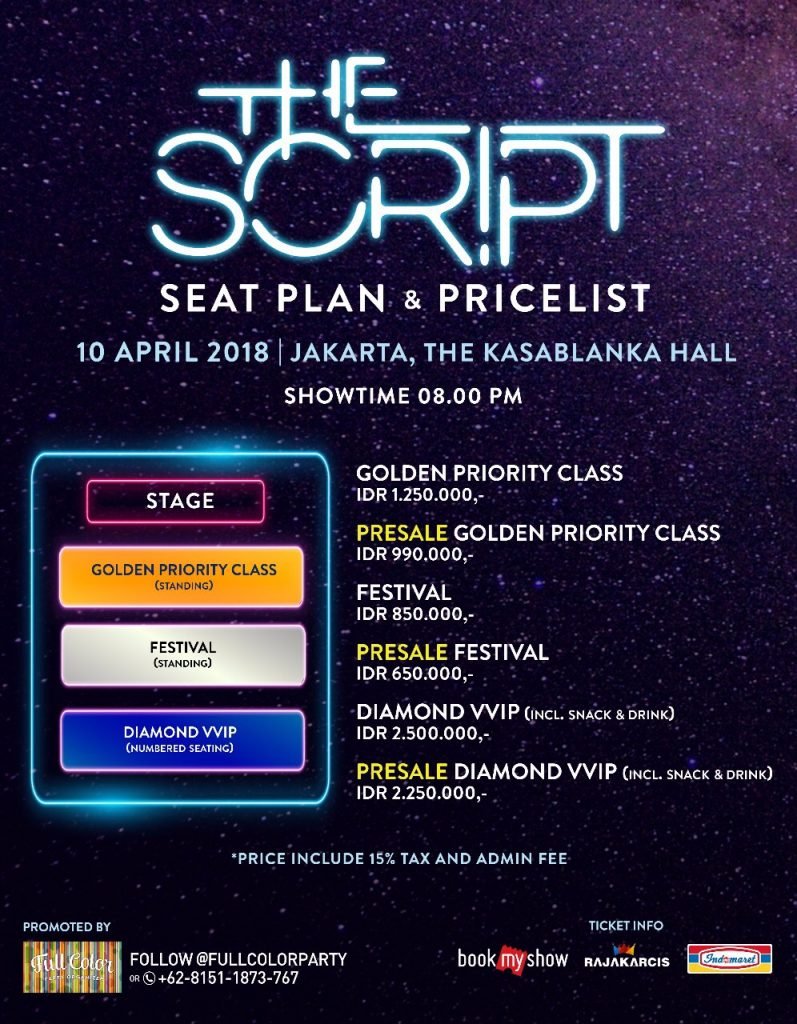 David Ananda selaku Director dari Full Color Entertainment mengatakan "Kami sangat senang dan bangga bisa membawa The Script ke Jakarta, Indonesia, The Script sangat banyak lagu hitsnya dan lagu terbarunya yang berjudul "Rain" sering di putar di semua radio station di Indonesia tidak hanya itu single "Rain" juga menempati tangga lagu teratas di beberapa negara di Eropa, dan Full Color Entertainment mempunyai kabar gembira bagi seluruh penggemar yabg berada di Indosia, jika anda membeli tiket konser harga presale dengan periode pembelian tanggal 15 sampai 31 Desember 2017, kita akan mengundi tiket yang sudah di beli dan 2 pemenang beruntung akan mendapatkan Meet & Greet bersama The Script, jadi tunggu apalagi, beli tiketnya segera siapa tau kamu yang beruntung bisa bertemu The Script, Syarat dan ketentuan berlaku ya, dan kita akan menjual tiket dengan harga normal mulai tanggal 1 Januari 2018".
Joey Ferry selaku CEO dari Full Color Entertainment menambahkan "Tur Asia The Script akan di mulai di Jakarta, Indonesia menjadi negara pertama untuk konser The Script – Freedom Child Tour 2018, saya yakin penggemar The Script di Indonesia banyak sekali, tiket kita sangat terbatas, untuk itu kami himbau agar membeli tiketnya segera sebelum kehabisan karena periode presale yang kita buka hanya 2 minggu sampai akhir tahun ini saja".
Setelah kota Jakarta-Indonesia The Script rencananya akan singgah di negara Asia lainnya seperti Singapore, Manila, Taipei, Hong Kong dan Bangkok. Tur The Script kali ini dalam rangka konser yang bertajuk sama dengan studio albumnya yang ke-5 "Freedom Child" yang telah di rilis kepasaran pada bulan September yang lalu, sebelumnya The Script manggung di tahun 2015 dengan tajuk konsernya "No Sound Without Silence Tour"
Dibentuk pada tahun 2005 oleh Danny O'Donoghue, Mark Sheehan dan Glen Power, nama The Script mulai terkenal sejak tahun 2008 dengan album perdana mereka yang menghasilkan lagu hits dunia berjudul "Breakeven" dan "The Man Who Can't be Moved". The Script juga terkenal lewat lagu hits lainnya seperti "Nothing", Hall Of Fame", "Superheroes" dan lagu terkahirnya yang baru saja di rilis beberapa bulan yang lalu berjudul "Rain" dan lagu tersebut mendapatkan sambutan yang luar biasa dari para penggemarnya dan merajai tangga lagu musik di Eropa dan Asia termasuk di Indonesia.