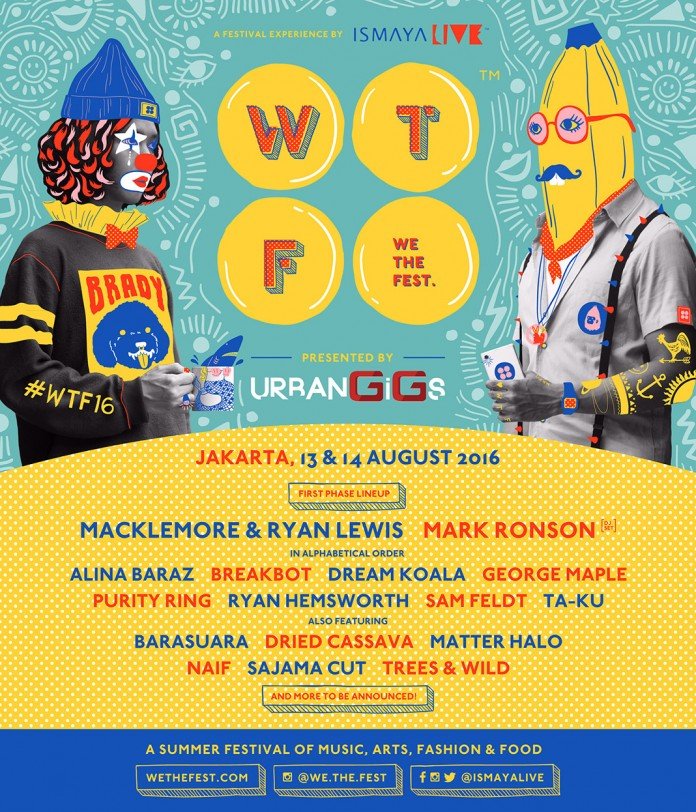 We The Fest 2016 (#WTF16) mengumumkan fase pertama lineup yang akan di-headline oleh duo Macklemore & Ryan Lewis, dan Mark Ronson (DJ set). Festival yang dipromotori Ismaya Live ini akan digelar pada tanggal 13 & 14 Agustus mendatang yang jatuh pada hari Sabtu & Minggu.
Lineup fase pertama #WTF16 memadukan musisi-musisi internasional dan lokal yang datang dari berbagai genre. Musisi-musisi internasional yang akan tampil di #WTF16 adalah Alina Baraz, Breakbot, Dream Koala, George Maple, Purity Ring, Ryan Hemsworth, Sam Feldt, dan Ta-Ku.
Musisi-musisi Indonesia juga akan meramaikan #WTF16. Mereka adalah Barasuara, Dried Cassava, Matter Halo, Naif, Sajama Cut, dan Trees & Wild. Masih banyak lagi artis-artis internasional dan lokal yang akan diumumkan di pengumuman fase lineup berikutnya.
Tiket 2-Day Pass #WTF16 mempunyai empat kategori, yaitu: General Admission (GA) yang dimulai dari harga Rp. 720.000, Early Entry (datang sebelum jam 3 sore) seharga Rp. 720.000, Very Important Banana (VIB) seharga Rp. 1.800.000, dan Instalment Plan (Cicilan) seharga Rp. 1.000.000. Harga belum termasuk pajak sebesar 25%. #WTF16 merupakan festival yang terbuka untuk semua umur. Anak-anak dibawah 5 tahun tidak perlu membayar tiket masuk.
Tiket sudah bisa dibeli dari sekarang via online di www.wethefest.com, dan via offline di semua restoran Pizza Ė Birra (Jakarta & Bandung), The People's Café Kota Kasablanka, Blowfish, Dragonfly, and Kitchenette Beachwalk (Bali).
Untuk info lebih lanjut mengenai #WTF16, kunjungi www.wethefest.com, dan follow akun resmi #WTF16 di Instagram (@We.The.Fest), Twitter (@WeTheFest), dan Facebook (www.facebook.com/wethefest).