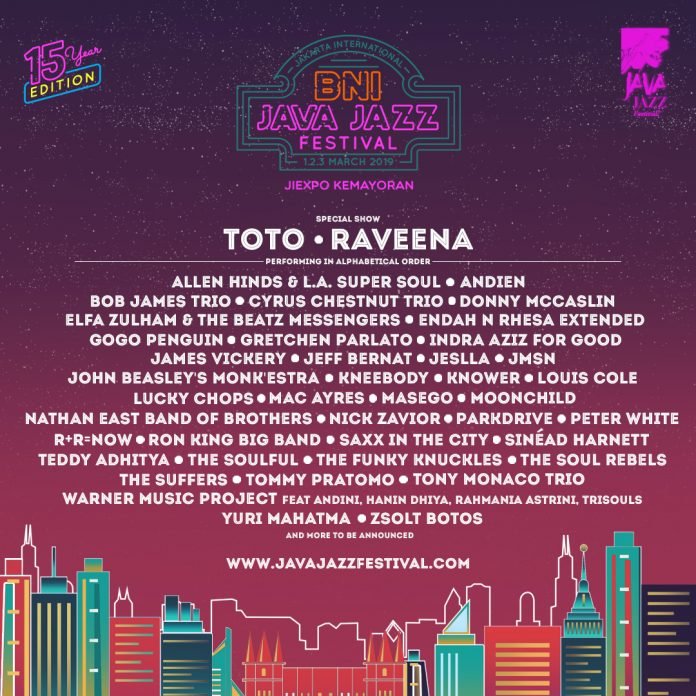 Jakarta International BNI Java Jazz Festival yang akan diselenggarakan pada tanggal 1, 2 dan 3 Maret 2019 di JIExpo Kemayoran, Jakarta, baru saja mengumumkan jajaran artis fase ke 3 yang akan tampil pada Festival tersebut dan juga 2 artis special show mereka yaitu TOTO dan Raveena. Nama-nama yang termasuk dalam pengumuman fase ke 3 ini antara lain adalah Allen Hinds & L.A. Super Soul, Andien, Elfa Zulham & The Beatz Messengers, Endah N Rhesa Extended, Indra Aziz For Good, Jeff Bernat, Jeslla, Mac Ayres, Parkdrive, Saxx in the City, Teddy Adhitya, The Soulful, Tommy Pratomo, Warner Music Project feat. Andini, Hanin Dhiya, Rahmania Astrini dan Trisouls, Yuri Mahatma dan Zsolt Botos. Tiket Jakarta International BNI Java Jazz Festival sudah dapat dibeli melalui
official website festival di www.javafestivalproduction.com & Kami sangat senang dengan kehadiran TOTO di Jakarta International BNI Java Jazz Festival 2019 dan kami berharap orang-orang juga tidak sabar untuk menyaksikan pertunjukan yang akan menjadi once in a lifetime experience ini. Begitu juga dengan Raveena, artis yang sangat bertalenta, suaranya sangat merdu dan musiknya terdengar berwarna. Selain itu juga akan ada
penampilan yang menakjubkan dari Andien, Parkdrive, Elfa Zulham & The Beatz Messengers dan masih banyak lagi." ujar Dewi Gontha selaku Direktur Utama PT Java Festival Production.
TOTO
Sudah 40 tahun bersama, lagu-lagu grup musik TOTO seperti Africa, Rosanna, Lea, I'll Be Over You dan Hold the Line pastinya sudah tidak asing lagi di telinga masyarakat dan TOTO menjadi tolak ukur dasar suara dan produksi banyak musisi dan TOTO terus melampaui standar yang ditetapkan oleh seluruh komunitas musik, yang hanya identik dengan kredibilitas musik. Di bulan Februari 2018, mereka merilis Greatest Hits, "40 Trips Around the Sun", dimana dalam album tersebut terdapat 3 lagu baru.
Raveena
Raveena adalah penyanyi soul berdarah India-Amerika. Musiknya memadukan melodi yang
manis dengan produksi yang rumit dan semangat, intensitas, serta kisah pribadi. Berbasis di New York, musiknya juga dipengaruhi oleh Jazz, R & B, dan Soul. Penampilan pertamanya dalam festival adalah pada festival Camp Flog Carnival pada bulan November 2018.
Daftar lineup Jakarta International BNI Java Jazz Festival 2019
 Allen Hinds & L.A. Super Soul
 Andien
 Bob James Trio
 Cyrus Chestnut Trio
 Donny McCaslin
 Elfa Zulham & The Beatz Messengers
 Endah N Rhesa Extended
 GoGo Penguin
 Gretchen Parlato
 Indra Aziz For Good
 James Vickery
 Jeff Bernat
 Jeslla
 JMSN
 John Beasley's MONK'estra
 Kneebody
 Knower
 Louis Cole
 Lucky Chops
 Mac Ayres
 Masego
 Moonchild
 Nathan East Band of Brothers
 Nick Zavior
 Parkdrive
 Peter White
 R+R=NOW
 Raveena*
 Ron King Big Band
 Saxx in the City
 Sinéad Harnett
 Teddy Adhitya
 The Soulful
 The Funky Knuckles
 The Soul Rebels
 The Suffers
 Tommy Pratomo
 Tony Monaco Trio
 TOTO*
 Warner Music Project feat. Andini, Hanin Dhiya, Rahmania Astrini, Trisouls
 Yuri Mahatma
 Zsolt Botos
*Special Show