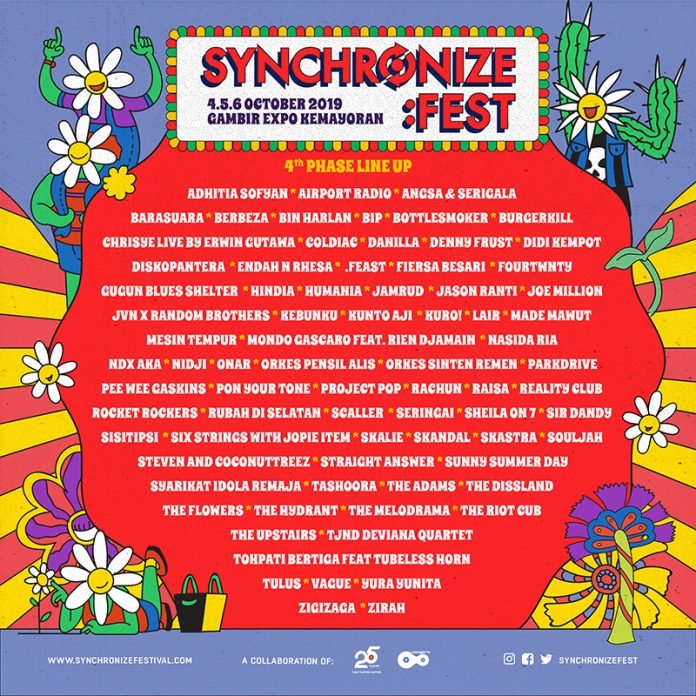 Tepat pada 16 Agustus 2019 lalu, secara resmi pada fase ke-4 mengumumkan 77 nama artis yang akan tampil di 
Synchronize
Fest
 2019.
banyak diantaranya adalah bukan nama asing di telinga penikmat musik indonesia, namun banyak juga diantaranya adalah nama-nama yang belum pernah tampil di 
Synchronize
 Festival dan akan menyajikan konsep spesial, seperti diantaranya:
BERBEZA
Merupakan sebuah proyek band berkonsep spesial memainkan dan menyanyikan musik-musik slow-rock melayu. Siapa yang tak rindu tembang-tembang dari Amy Search, Iklim, hingga Slam? tentu dijamin akan menjadi nostalgia nan menyayat hati Anda semua yang hadir di #SynchronizeFest19
CHRISYE LIVE BY ERWIN GUTAWA
Kangen dengan Chrisye? Sosok sang legenda musik Indonesia seakan hidup kembali, lewat rekaman suara asli serta dukungan visual, melantunkan sederet lagu hitsnya. Sebuah persembahan istimewa dari sahabat serta partner dalam bermusik Chrisye, Erwin Gutawa.

DIDI KEMPOT
Beliau adalah nama yang paling dinantikan setiap orang di 
Synchronize
Fest
. Dijuluki sebagai God Father of Broken Heart, nyatanya Didi Kempot dipastikan tampil di #SynchronizeFest19 sebagai pelipur hati yang lara para Sadboys dan SadGirls.
SIX STRINGS WITH JOPIE ITEM
Bagaimana rasanya menyaksikan 5 punggawa gitar ternama Indonesia tampil berada di satu panggung? ialah Dewa Budjana, Baron, Tohpati, Baim, dan Eross Chandra 'So7.' tampil sebagai Six Strings siap berkolaborasi dengan gitaris legendaris Indonesia Jopie Item. Proyek ini akan menjadi sajian memukau di panggung #SynchronizeFest19
dan masih banyak lagi nama-nama spesial lainnya di Synchronize Fest.