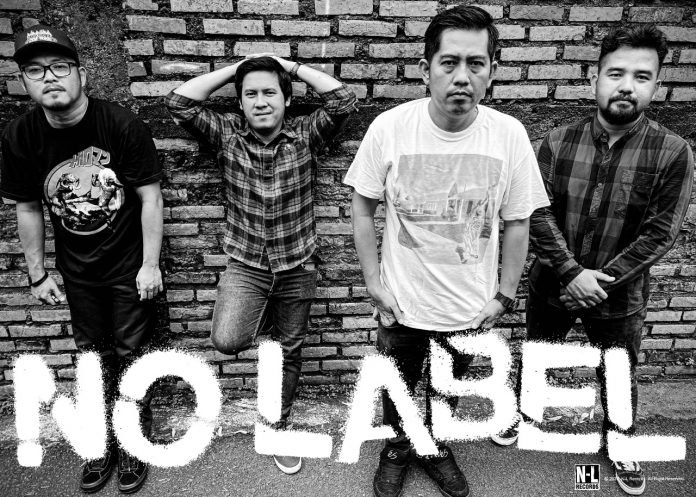 NO LABEL adalah sebuah band punk rock dari Jakarta, terbentuk pada tahun 1997, beranggotakan 4 personil:
Anton : drum
Yusek : bass
Umar : gitar
Apenx : vokal gitar
Musik, persahabatan, harapan, sosial dan berpolitik adalah tujuan mereka untuk menjadi sebuah band kecil bisa dikenal di Indonesia. setelah malang melintang sekian lamanya di gigs underground maupun event-event sebagai band pembuka beberapa band luar dll, mereka juga telah memiliki 3 album dan beberapa single serta album diskografi, debut album pertama berjudul "HUAAA!" dirilis oleh pinball records pada bulan Agustus 2000, untuk 400 copy dalam bentuk kaset.
Album kedua mereka yang berjudul "For Bad Country", dirilis oleh Hit & Run Records pada bulan Juli 2007 untuk 1000 copy dalam bentuk Cd, di lain pihak album ini juga dirilis oleh High Speed Flower Record dari Jepang pada bulan November 2009. untuk 500 eksemplar dalam bentuk Cd's. dalam perjalanan bermusik mereka juga ikut berpartisipasi dalam beberapa album kompilasi dari berbagai daerah dan luar negeri seperti:
– "Keep it United" realesed by Pinball Records 2000 Jakarta
– "Fallen Angel magazine" realesed by Blue Sky Records 2001 Bandung
– "Fight for Goodness vol 2" realesed by FFG Records 2001 Jakarta
– "Bad tunes & the ordinary" realesed by MyOwnDeck Records 2001 Bandung
– "Sepanjang Hari" realesed by Krossover Records 2003 Jakarta
– "No Friends but Friends" realesed by Red Star Records 2004 Jakarta
-"Pang .. BIB BIB BIB .." realesed by Dapross Records 2006 Solo
– "PunkRock Soundtrack 5" realesed by Kick Rock Music Records 2007 Japan
– "Cemong Compilation" realesed by Hit N' Run Records 2007 Jakarta
– "Pangrokz Plip'Plopz" realesed by Unknown Records 2009 Jakarta
dan beberapa kompilasi online yang diperuntukan untuk diunduh oleh banyak kalangan didalam dunia media sosial.
Pada tahun 2014 mereka merilis single dalam bentuk Mp3 untuk dapat di download bertajuk "Negeridiksi" berisi dua lagu lagu pertama berjudul sama yaitu negeridiksi dan satu buah lagu cover berjudul dust in the wind, cover lagu dari band rock amerika bernama KANSAS, dirilis ole N-L records.
Memasuki akhir 2020 N-L records dan band mencoba merilis full album menggunakan sistem pre order pada penjualannya, dibundling dengan beberapa merchandise.
Album bertajuk "Manusia Merdeka" berisikan 11 lagu bernada cepat dan agressive serta berbumbu provokasi, ditujukan untuk semua kalangan anak muda di jaman sekarang agar lebih kritis terhadap keadaan lingkungan dan sosial, lebih semangat dan optimis, pantang menyerah dalam menjalankan hidup di hari depan.