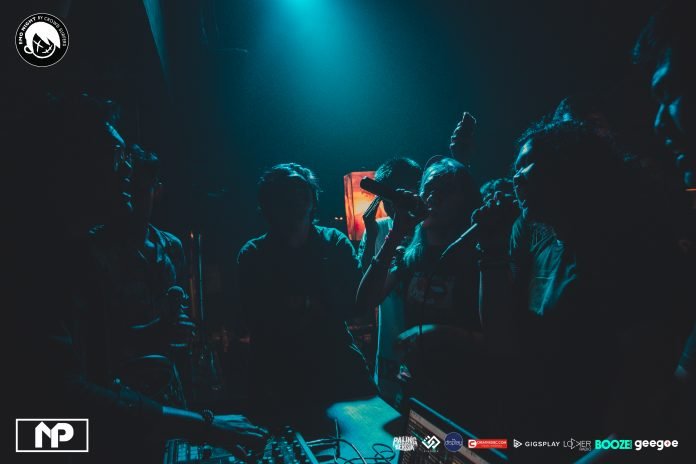 In the midst of 2018 where people are easily introduced to all kinds of music,
where the mainstream music industry is being dominated by certain genres, the people from Crowd Surfers believed in the emo within us.
Semenjak mengadakan acara Emo Night pertama tahun 2017 lalu, Crowd Surfers (@crowdsurfers.id) secara konsisten mengadakan serangkaian Emo Night dengan mengusung tema yang selalu berbeda. Mulai dari Pop-Punk Revival, The Anthem of My Funeral sampai acara terbaru mereka, Emo Night By Crowd Surfers 1st Year Anniversary.
Bertempat di MISS QI Bistro Lounge, EMO NIGHT by Crowd Surfers kali ini menghadirkan 4 band sekaligus yang dibuka dengan penampilan Faith Runner membawakan lagu dari Ataris dan beberapa lagu original mereka, dilanjutkan dengan REDSIX yang berhasil memanaskan suasana dengan "Somewhere in Neverland" yang didedikasikan untuk tim Crowd Surfers. Selanjutnya suasana berbeda ditawarkan oleh Hidden Message yang membawakan lagu dari Peterpan. Penampilan serangkaian band pada Emo Night First Anniversary ditutup oleh Ringgo 5 yang membawakan lagu-lagu seperti Love Drunk dari Boys Like Girls dan Drown milik Bring Me The Horizon.
Keseruan malam perayaan Anniversary pertama crowd surfers tidak berakhir di penampilan para band. EMO NIGHT Crowd Surfers yang didukung oleh Java Festival Production dan Sonic Live Asia membagikan tiket untuk Hodgepodge Superfest dan Paramore. Barulah keseruan yang sebenarnya dimulai dengan DJ Set dari Mashiro dan Janitra Satriani. Lagu-lagu dari The Click Five, Yellowcard, The Killers sampai Metro Station pun diputar dan penonton pun menggila.
"Even though Emo Night is DJ Set but it is still a rock show!" Seru salah satu DJ, Mashiro sebelum memainkan lagu The Rock Show dari Blink 182. Semenjak Crowd Surfers pertama didirikan, mereka percaya bahwa emo masih menjadi bagian dari banyak orang yang pernah merasakan masa jaya skena musik ini. Tim Crowd Surfers memiliki tujuan untuk menyatukan kembali pecinta musik emo dengan membawa mereka ke masa-masa itu.
When you're at EMO NIGHT By Crowd Surfers, you're entering a judgement-free zone where you can be yourself without having a care in the world.
Everyone, welcome to your emo support group. (Teks/Foto: Crowd Surfers)